As the Region 39 End Polio Now Coordinator, my job is to encourage Rotarians to donate to PolioPlus.
Eradicating Polio is Rotary's promise to the children of the world.
Right now, the Global Polio Eradication Initiative infrastructure is being used to combat COVID-19, so the need for money is there.
Once this pesky pandemic is over, we will go full court press to eradicate Polio.
Rotary has set a goal of at least $45 per Rotarian as an annual donation to PolioPlus.
So Here is the deal.
As an incentive, if you donate at least $45 to PolioPlus by the end of February, I will personally give you this US Coin (shown below) which commemorates the development of the Polio Vaccine. It is real US American money.
Go to
www.e
ndpolio.org
and look in the upper right hand corner. There is a button that says "Donate". Click that button and follow the easy instructions.
This is for NEW donations only. Just send me proof of the donation at
pdgjohn2015@gmail.
com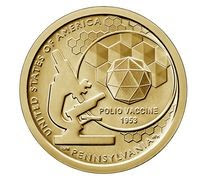 Yours in service,
--
John G. Kramb
End Polio Now Coordinator, Region 39, 2020 -
International Fellowship of Motorcycling Rotarians
Perfect attendance award, Waller Elementary School, 1957.
District 7390 Rotary Foundation Chair 2016 -2021
Membership Chair, Rotary Club of Gettysburg, 2019 - 2020
District 7390 Governor 2015-2016.
Chair, Council of Governors, International Fellowship of Motorcycling Rotarians. 2019 -
Editors note:
It is as simple as PDG Kramb explains. Simply click on the link and you can give any amount on your credit card.
You can trust this Rotarian, just look at his credentials- He had perfect attendance at Waller Elementary School in 1957!